Day four of the thirty-day challenge is definitely my favourite so far because it's giving me the opportunity to gush about my favourite book series of all time – albeit through a singular book in the series.
The theme this time is "The Book You've Reread Most Often", and in recent years, simply because of the astounding amount of books I've come to own, I don't regularly reread books. When I was a kid and depended on my mother or father to get me books, I didn't really have all that many. I remember a time when I was fourteen and only got £2 a week for pocket money from my grandmother begging my Dad to give me the extra £2 I was missing to be able to get this book I wanted. So, because I was so limited, I would reread what books I did have before venturing out to the local libraries to get more.
It's part of the reason why the book (and series) that I'm going to talk about has such a special place in my heart, and always will.
That books is
Harry Potter and the Philosopher's Stone
by J.K. Rowling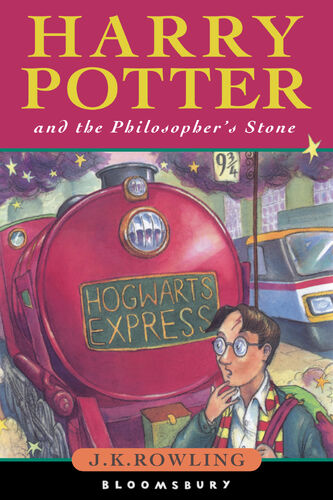 The "Harry Potter" series is one that pretty much everyone in the world knows about. I'm sure there are a lot of people who are sick of it – I certainly know people who have never read the books or seen the movies so don't understand the emotional impact it has had on people such as myself. But as a whole, the "Harry Potter" series is one that is going to last for generations because of the sheer power there is in every single aspect of the story.
I was eight years old when I first discovered "Harry Potter and the Philosopher's Stone". It was the tail-end of 2003, so the book had been out for a good 7-ish years already, but I knew nothing of it until I came across it in a brochure. My primary school was taking part in the Reading Is Fundamental program and my class was given a brochure full of books that we could pick from. The school would order them and that was that. We got free books to encourage us to read. I didn't know what it was about "Harry Potter" but when I saw the front cover in the brochure I knew I had to have it.
At the time, my grandfather had not long passed away and things at home weren't exactly the happiest. So when I got my book I started feeling better. For starters, it was a big book for an eight-year-old. Every book I'd seen in school up until that point had been a picture book or a thin textbook. This was an actual book, one like I often saw on the shelves in my grandparents' house; like I often saw my grandfather read. Then I got into the meat of the story and every seemed to click into place.
My little grieving mind found another child who had suffered an unthinkable loss. This child was going through worse than I was but it still resonated with me. The magic astounded me, the creatures and characters blew me away, and at the core of it all was this sense of power. I had friends of my own, of course, but I felt as though I'd gained more. I felt like I'd gained friends who understood what I was going through.
And I think my father must have noticed that, too, because from that point on, the only books I never had to beg for were the "Harry Potter" books. One time, I was curled up in a chair reading through "The Prisoner of Azkaban", half-way through my first sitting of it, and he walked up beside me silently and smiled when I looked up. He was just there, holding out "The Goblet of Fire" and I couldn't thank him enough. He bought me every single one because, somehow, I think he realised they meant more to me than just a silly magical adventure.